So we had to wind our clocks back last night, which in theory should have given us an "extra" hour to sleep in today.
Unfortunately, we weren't so lucky - our neighbours decided to have a party right outside our window, or at least that's what it seemed like !! So around 2:30am (I think!) I got up and called the noise control department of the city council because it's hard enough to get sleep as it is, and despite the fact that it can sometimes be pointless to call them on a busy Saturday night. However, by 3am or so they had already shown up and shut the party down - HOORAY !! We know they definitely made it because they came all the way down our driveway by mistake, and then had to turn around :P
Prior to all that fuss though, we had a nice night out at a birthday party for our friend Alfred, who turned the big 3-0 - he's the dark haired fella on the right in this photo from just after our wedding ceremony:
Interestingly enough, Blogger didn't want to add the photo for me, but luckily I already had that photo stored elsewhere ;)
Today was quiet though, had a nap to try and make up for last night, cleaned out the pantry and rest of the kitchen - then did our usual groceries. Yesterday while I was at work Rollie also went and got us some boxes, and so we made those up today as well for whenever we decide to start on our packing. Here is a photo of Maddy, helping out !!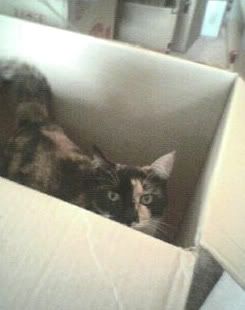 Cat in a box, hehehe !
Spaghetti for dinner later tonight I think, looking forward to that - we have it every week !! :D Roland makes a *fantastic* bolognaise meat sauce... mmm... *drools*.

Anyway, that's it for now - and I promise to at least try and not let my updates slip so much again !

Just before we go however, here is the latest shot of The Bump to keep you all amused ;)